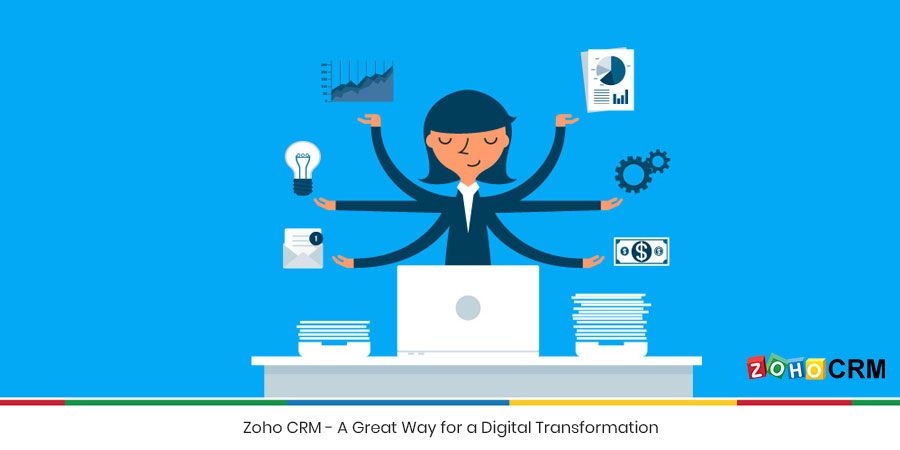 14
Feb
Zoho CRM – Advanced Filters for a better Digital Transformation
CRM being a vital factor while running a business. CRM strategy is formed with an idea of how businesses approach customer interactions and building relationships. This involves collecting customer data's and their previous history for providing better services which drive higher revenues.

When you have a very strong CRM strategy for your business, this, in turn, leads you to build personal connections with customers, which helps you to identify their needs and requirements and provide them with personalized services.
Why is a CRM strategy important?

Without using a proper CRM strategy, your customer's information will be spread all around. Moreover, it will be a tedious task for you to take note of the touchpoints and interactions you previously had with your customers. This can, in turn, lead to a decline in your Sales Cycle.
Producing Great Experiences

Your Organization can offer a better experience to your customer's, regardless of where a customer is in your sales cycle. This refers that each team in your organization, right from Sales and Marketing to Support, should have good interactions with the customers.

A recent survey suggests Effective sales organizations are 81% more likely to be practising consistent usage of a CRM tool.

Choosing the right kind of CRM

When you need to choose the best CRM for your business, you need to make a choice between the on-premise or cloud CRM software.

Cloud CRM is built and maintained by the service providers on their respective servers. The service is accessible over the internet through a browser, which allows you to deploy the service without any software installation on your organization's computers.

On the other hand, On-Premise CRM involves setting up the servers in the office and installing the software on all required devices on your local network. This puts the way for upgrades, customization, and maintenance solely in the hands of your IT department.

Why Zoho CRM can be a great way?

Zoho CRM comes with feature-packed capabilities such as pipeline management and automation which are being bundled in a single package.

Without disturbing the work of the Sales team, one can automate all the routine tasks with workflows and macros to help your team focus on winning clients and closing deals.

With a large set of channels available to interact with clients, you can contact them with the real-time notification system for applications such as social media, telephony, live chat, etc to keep them connected.

Zoho CRM's AI (Zia) being an interactive one for all your CRM data. You can get predictions which help you focus on the right deals with the highest chance of closure, identify and remove bottlenecks, prioritize your response based on the sentiment of a customer's email, and more.

Importance of Zoho CRM

Zoho CRM provides personalisation and timely service by connecting the channels of communication you use, your sales software and your customer data into the holistic customer experience.

Zoho CRM includes Zia, the advanced conversational AI assistant which builds better customer relationships and improves the sales. Zia analyses the sentiment of customer emails to identify the tone of the conversation.

Zia also identifies the exact time to contact customers. Added, Zia keeps your customer information up-to-date by enriching your database with verified and accurate data.

All you need to do is "Ask Zia" by chatting with her on the desktop or calling her from your mobile app to access information within seconds.

So, What are Advanced Filters?

The Advanced Filters provided by Zoho CRM can deal with your leads and can get you high-quality leads if required!

Consider a scenario, your CRM has been dumped with leads. In such a case, you need to follow up with all of them. But there comes an issue if your leads don't perform well. If only you could pull up such idle leads simply and follow-up again.

You have numerous deals that are waiting to be closed by the end of the month. But you suspect that several tasks associated with the deals are still pending. If only you could pull up such deals on a single click.

You offer a live chat service to your customers from your website. If only there was a way to quickly pull up the list of important customers whose chat requests you missed in the last week.

Now, these are details which could take a long time for you drill down using reports. However, using Zoho CRM's advanced filters, you can get this information instantly. This is possible because, apart from regular record details such as First Name or Phone number advanced filters include a wider range of criteria for you to base your search on, such as:

Email activity.
Activity status.
Website activity.
Scoring rules.
Notes.
Using an intelligent combination of the above criteria, you can quickly pull out the relevant records as discussed in the scenarios above.
Benefits of using Zoho CRM

These are the main reasons one should go for Zoho CRM:

A CRM is a software which nurtures and identifies the best leads for you! When it is combined with reduced sales report, you can gain a potential number of leads.

Efficient Business Process
You can make your product remain productive by defining and building efficient processes for your business.

Customer Satisfaction being an important tool with all the historical data of a customer, as well as information regarding similar issues faced by others. A centralized repository of information helps your team to resolve customer inquiries quickly, ensuring they leave satisfied.

Final Words

We at Sumanas Technologies leverage Zoho CRM for a high-end output. If you wish to try Zoho CRM you can kick-start by clicking on Zoho CRM.

What are the other CRM's you prefer? What CRM do you make use of? Jot down your comments in the comments section below!!

Happy Reading 🙂

Search
Categories
Recent Posts