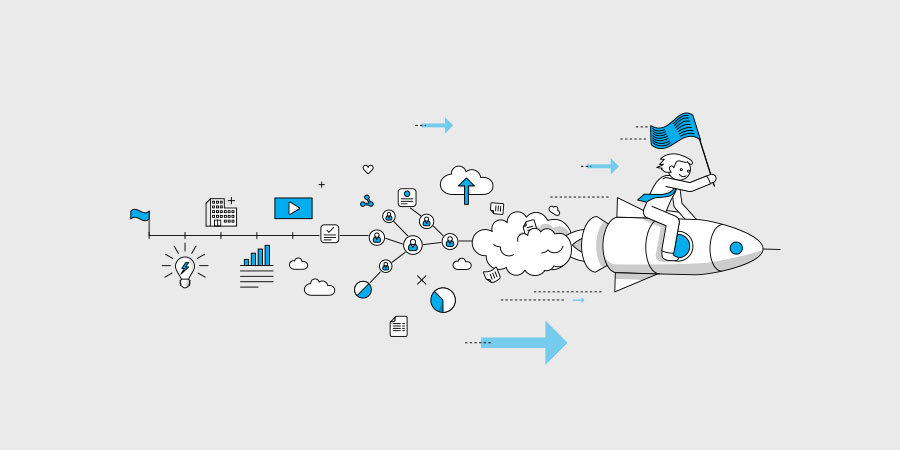 27
Nov
What actually is Enterprise Application Software? and How it is Different from the others?
When we talk about technologies and trends, it is sometimes overwhelming to keep on top of new terminology and terms. We would have heard of Enterprise Application Software often but not sure what it is!
Basically, Enterprise Application Software is large-scale software that is aimed to support or solve the problems of an entire organization. This impeccable software allows for several different user roles, and the roles define the actions a specific user can perform.
Let's take a simple example for a better perspective. In general, A Sales settings make use of generic enterprise application software. This extensive software comes up with different functionalities and abilities like:
Salespeople can log the client information, including personal and product information and client location in the sales pipeline.

Customer service representatives can keep track of client issues and communication alongside internal responses and updates.

Internal-facing employees can take client specifications to create the product.

Managers and C-level executives can track client and employee performance as well.
Let's dive into the article where we have focused mainly on an understanding of EAS: what it is, how it's used, how it compares to other types of software, and which is best suited to take advantage of its benefits.
What is an Enterprise?
Enterprise refers to a unit of economic organization or activity, especially a business venture or organization.
The key piece to the understanding enterprise is size. An enterprise could certainly describe a self-employed entrepreneur or small business, but it is more often used to describe very large organizations that have many activities and functions.
Common examples of enterprises include:
Parts of or an entirely local, state or federal government entity is an enterprise.

Medium- to large-sized companies that may work across an entire country or internationally is also an enterprise.

School systems or districts can also be considered.

Added, Non-profit groups that support and work in many areas.
Just imagine all the employees who need access to certain information in order to perform their multiple functions, which are essential to getting the job done. A large enterprise may need to cover areas like sales, customer service, internal and external communication logs, production specifications, goals and productivity measurements, etc.
If the organization is large and has many individuals with mixed roles within it, we can likely call it an enterprise.
What is an Enterprise Software?
Now we will have a better idea of what an Enterprise is. An enterprise is a large-scale system, so it follows that enterprise application software is large-scale software. Beyond just the size of the software, enterprise application software typically relates to software that affords mission-critical solutions to the entire or majority of the organization. If the software takes care of a majority of tasks and problems intrinsic to the enterprise, then it can be defined as enterprise software.
Common enterprise applications often include characteristics includes:
Widespread performance, often across many physical locations.

Scalability.

Robustness.

Business-oriented.

Critical to the mission of the enterprise.

Ability to interface with other enterprise software.

Centrally managed.

It is Comprised of a suite of computer programs, such as:

Common business applications.

Tools for modeling the entire organization.

Development tools to build apps unique to the organization.
Any type of enterprise will literally have many capabilities. For example, if you are looking for an IT service management enterprise software option, you will hopefully want to look at capabilities that are vital to managing your enterprise's service experience. BMC's Remedy Service Management includes critical capabilities including services like service desk and trouble ticketing, an ITIL-compliant incident or change management, IT asset management, service catalog, knowledge management, and configuration management database.
General uses for Enterprise Software includes
Order processing.

Procurement.

Scheduling.

Customer information management.

Energy management.

Accounting.
How it is Different from the others?
Generally, there are two types of Software.
System Software and

Application Software.
System Software deals with software programs that help the computer run, like the operating system. Without systems software, we would have to manually enter directions for each task we want a computer to perform with. Some of the examples of systems software include Microsoft Windows, Apple's OS, etc.
On the other hand, Application Software deals with creating documents, databases, spreadsheets, presentations, graphics, and more. We make use of the application software, often shortened to applications or apps, to complete a function or even play a game. Enterprise application software falls into this section, as its function is to support the mission of a large enterprise.
Application Software can further be divided into Applications that serve the purposes of individuals or the purposes of a larger group, such as an enterprise. If the software only feeds to a specific or small portion of the enterprise, it may not be considered EAS. Further, enterprise application software is not intended to support the work or hobbies of individuals, such as Microsoft Word or a single-person game as well.
EAS Vs SAAS
SaaS is a well-known alternative for clients that need to deal with an unmistakable reason. In this product show, clients normally lease the product, never owning it. SaaS is frequently facilitated in the cloud, requiring clients to be associated with the web to utilize the product and access the information. (In light of this SaaS can likewise be known as cloud applications.) But, cloud facilitating additionally implies that clients can get to the product broadly, from PCs, tablets, and some of the time even cell phones. Well, known precedents of SaaS incorporate Slack, Salesforce.com, Dropbox, and Zendesk.

While SaaS can give speedy, all-inclusive access to programming that offers particular activities, its downsides may incorporate absence of customization and database moving. The powerlessness to redo this product implies it frequently can't be particular enough to huge scale, venture wide missions. SaaS contributions are accessible to numerous endeavors, and now and again singular clients, so its inborn capacity to make inquiries and reports can be restricted. At the point when programming is questioning or giving an account of its information, it must output the whole database. However, when such a significant number of clients are getting to a cloud-based database, the procedure can be moderate and over-burden. There SaaS frequently may constrain kinds of questioning and detail accessible to its clients.

Interestingly, databases in big business application programming are implied just for the single endeavor, so different gatherings aren't sharing a database and depleting its handling abilities.

As far as customization, EAS is commonly claimed, by and large, giving clients considerably more capacity to tweak it. Ventures regularly have in-house designers and developers change or redesign the product to make it coordinate undertaking needs. It's additionally constantly flexible – if another endeavor issue comes up, developers can execute another arrangement inside the current programming.

Undertaking application programming is regularly facilitated by physical servers. The product at that point depends on a PC system to interface with its numerous clients. A few sections of the product may likewise depend on intranet and every so often web associations. Since big business programming introduces straightforwardly on authoritative servers, the association is, for the most part, more private and secure.
To Conclude
Hope now you would be clear with what an Enterprise Application Software is! This flawless application is in need useful in multiple ways and platforms. Experience the best features by leveraging the software at a greater extent.
If you have any queries, you can reach us through the comments section at any time!
Search
Categories
Recent Posts