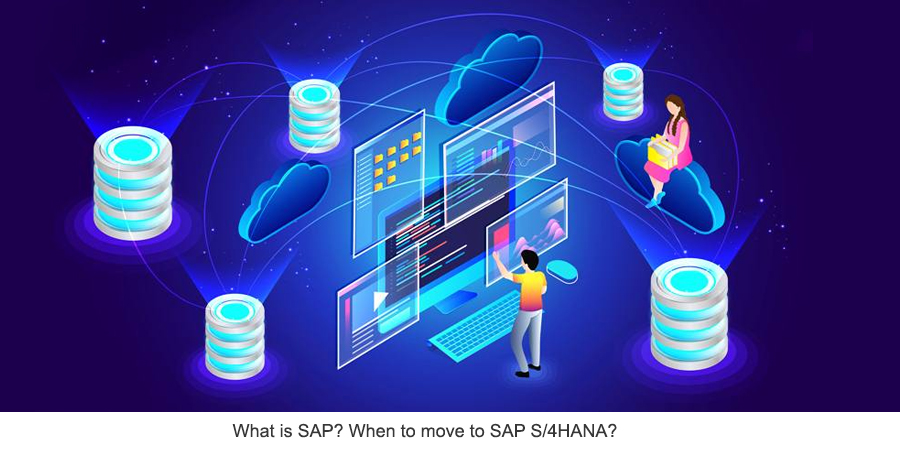 23
Mar
What is SAP? Why to migrate to SAP S/4 HANA?
SAP has proclaimed that S/4HANA software package is meant to increase the complexity and real-time nature of today's world! Wondering what is SAP?
Here you go! SAP is a software used for Enterprise Resource Planning, helping with financials, distribution, manufacturing, project management and customer relationship management (CRM). SAP stands for Systems, Applications and Products.
SAP systems consist of a large number of fully integrated modules, which covers virtually every aspect of business management.
Before we actually get into the discussion, what ERP is and how ERP can help in your business process, we will understand how different departments are involved in the whole business process, starting from the ordering of the raw material to manufacturing goods to delivering final goods to the customer.
Consider a client approaches a sales team asking for a specific product. The sales team contacts the inventory department to check the availability of the particular product. To their surprise, the sales team finds out that the product is out of stock. To make sure this doesn't happen next time, they have to introduce an SAP ERP tool.

And for a couple of years ago, a silent revolution for SAP has started. ow, SAP claims that around 1000 customers have embraced S/4HANA until now. That is not a huge number when it comes to a new technology adoption from the SAP stable. However, this means that the transformation from SAP ECC to S/4HANA is yet to start.
Why is SAP important actually?
The future of SAP depends on the adoption of S/4 HANA by its customers. It is found that SAP has to be an important strategy which needs to be followed or cannot be resisted for the upcoming years.
Current Business Context
It is important to know your current/existing SAP systems which support your current environment of processes, organization and information.
Using this, you can identify what is working and what is not! With that, you can come up with extensive ideas.
Integration Approach:
When you are going through the existing applications, find out which applications aren't connected to the SAP applications.
This, in turn, can give you a better understanding of the underlying software and infrastructure for integration.
Technology Strategy
Your Technology Strategy must give a full understanding of your current business and technologies. On migration what would be the possible outcomes need to be monitored. You need to think about your overall IT environment.
Analytics
Go past simply taking a gander at help for value-based procedures. You ought to likewise consider your present business examination scene and make an appraisal. Is it accurate to say that you are at present getting all the data required for business basic leadership, and is that data convenient and precise? Would you be able to play out the examination you require in the present condition? Providing better and quicker data and bits of knowledge is a key advantage of SAP S/4HANA.
Conclusion
SAP software has sawn a rise in recent days! As discussed, SAP helps in better management of customer needs and assists towards long-term and profitable customer relationships. SAP CRM provides an organization with the flexibility to build various unique solutions for better customer experiences.
Hope now everything will be clear!
If you have any queries or suggestions, you can jot down your comments in the comments section below!
Thanks for reading!
Search
Categories
Recent Posts