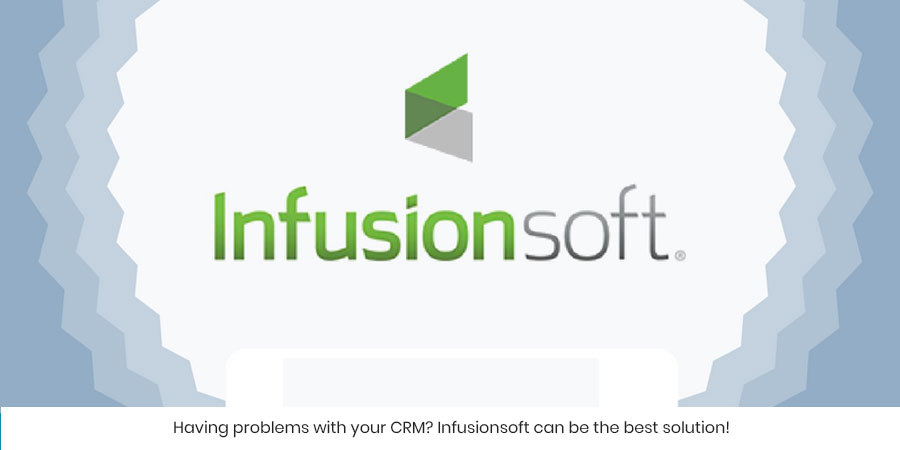 06
Feb
Having problems with your CRM? Infusionsoft can be the best solution!
Infusion Soft being a CRM software launched to solve the marketing problems. It is built especially for organizing every single part of client communications, in order to deliver better services to the leads, prospects and current customers.

Infusion Soft, the CRM software has great layers of aspects intertwined natively into its system to combine the traditional CRM with a full array of small business services.

This software is more efficient and has the power to convert the leads without using a large amount of manpower.

Traditional CRM Vs Infusionsoft

When it comes to Customer Relationship Management, everyone thinks the same way. This means that contact is being stored in a database, and every type of interaction with that specific contact is on record. Added, you can include notes, plan meetings, and so forth–all related to one person.

On the other hand, when it comes to traditional CRM, people miss out a lot of features of one to one model and the features being limited to a single person and transactions.

As Patricia Fripp says, "You don't close a sale, you open a relationship if you want to build a long-term, successful enterprise"!! Infusionsoft makes it possible.

Infusion Soft combines the complete aspects of Traditional CRM system by integrating marketing and sales aspects and have the important one-to-one AND one-to-many types of communications.

In simpler words, Infusion Soft = Customer Database + Marketing + Sales + Service (such as eCommerce).

Why should one adopt Infusion Soft Strategy?

Infusion Soft works with the strategy that marketing and CRM must be integrated. Experts say it is more important to work together continuously. Moreover, you can execute all kinds of the process with Infusion Soft.

Particularly as a small business, this is an important key factor in running your business. Right from email sequences to drip campaigns which lead to Landing Pages (also created with Infusionsoft), the options are nearly endless.

Automation is what really makes Infusionsoft stand out from other CRM software. When clients learn to use automation to their benefit they get more leverage out of their client database.

This software is purely applicable to small businesses, entrepreneurs and Solopreneurs.

As Clate Mask says, "95% of Infusionsoft's customers are small businesses with 25 employees or less".

It can be any number of employees working there, but the thing is you need to manage them from the time as they become a lead throughout their entire life cycle as a client .

Keep in mind, this is a suite of tools. In the long run, using Infusionsoft would make integrated sales and marketing with your CRM simpler and less expensive, since these capabilities are native to its software.

Moreover, it has an open API such that if you want to get really creative, the [Infusionsoft] world is the best choice.
The Final Thing is that it comes up with these feature-packed solutions:

Calendar/Reminder System.
Quotes/Proposals.
Segmentation.
Territory Management.
Email Marketing.
Lead Scoring.
Marketing Automation Integration.
Final Words

Hope now you would be clear about how important is Infusion Soft! CRM has become a vital factor nowadays, it is a must to choose the best CRM to have a quality set of prospects around!

If you have any queries or suggestions, you can jot down your comments in the comments section below!!

Thanks for reading! 🙂

Search
Categories
Recent Posts