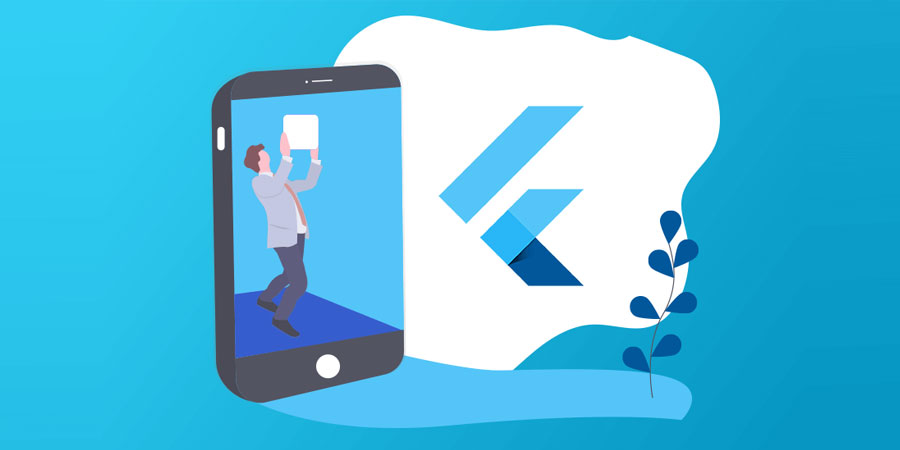 04
Dec
Fabricate your Mobile Applications with Flutter!
Mobile Development primarily encompasses two major platforms: iOS and Android. Each of these platforms requires two varied coding for application development. This has paved way for developers to go with Cross-Platform Development.
Cross-Platform Development remains compatible with both the platforms and hence enhances the users with a good experience. This development, in turn, supports iOS, Android as well as Windows.
Developers always look for neoteric and cornerstones to make the application perky, crunk and drool-worthy.
You'll be familiar with some modest tools like Xamarin by Microsoft, React Native by Facebook, Ionic, and PhoneGap from Adobe.
Each of these frameworks will separately have their own foredeals and detriments.
When coming to Flutter, it was launched by Google in February 2018 and moreover, developers all around the world adore it.
However, the debate between React Native Vs Flutter is still making rounds.
Check out our article, which will give a broader idea and perception of Flutter!
What actually is Flutter?
Google introduced this software development kit which makes use of Dart Programming language. The Advent of Flutter has resolved more common errors with the previous platforms. Google Fuchsia is one of the OS which is compatible with Flutter including Android, and iOS.
The developers at Google had been working seamlessly on this before general use. Here are the things they worked on:
Ability to support more Firebase APIs.

Has its own tools.

Bug fixes.

Improved documentation.

Support windows development.

Enhanced engine performance.

Acts as the Tools for Android Studio and Visual Studio Code.

Compatible different languages i.e internationalizing.

Accessibility for all types of developers.

Additional features like inline videos, charts, and ads.
Developing Applications with Flutter
The developer of Flutter, Google has adopted this tool to create the Adwords app which tracks the advertising reach and buys. Yet Another user is Alibaba Group, a Chinese e-commerce company. They used Flutter to develop the Alibaba app.
From an app owner's view, developing an app with Flutter is quick and less expensive. There are other foredeals to use Flutter for app development.
Pros
IMAGE CREDITS: Appinventiv
Cons
IMAGE CREDITS: Appinventiv
Pricing Includes
It takes around 50% less time to build the app with Flutter compared to other platforms. As per the portable application advancement direct on what amount completes an application improvement cost that we composed as of late, the expense of an application relies upon the hours it takes to assemble it. To manufacture an application with Flutter that works both on iOS and Android, it takes around 250 hours. Then again, it takes 400 hours to fabricate the equivalent application for iOS and 250 hours for Android.
To decide the cost, simply duplicate the hours taken to fabricate the application with the hourly charge of an application engineer. A Flutter application advancement organization, be that as it may, has its very own value go for improvement. It typically runs between $15,000 to $40,000.
It is seen that the hours taken for Flutter application improvement is low consequently it will set aside extra credit. So in the event that you need to set aside some cash and build an application in less time at that point Flutter is an extraordinary decision.
Future of Flatter
Regularly a debate is made among quality and efficiency while creating separate applications for iOS and Android. In any case, Google chose to evacuate this issue and presented Flutter as a cross-stage improvement device.
Flutter has recently entered the application improvement industry and has just observed a great deal of popularity. The future is by all accounts brilliant for Flutter. Google likewise propelled Flutter Beta 3 with included new highlights and capacities and it is said to be greater than the past form. Flutter has a considerable measure of potential in the business and on the off chance that it can overcome any issues among quality and profitability then it beyond any doubt will assume control over the application improvement world.
It is still in the advanced stage which can be a hazard however it shouldn't take Google long to dispatch a steady form of the structure. Vacillate has an official site where you can locate about Flutter.
Final Thoughts
This was our take, as a Flutter application advancement organization, on the recently propelled Flutter for cross-stage improvement. We the best mobile application development company in Madurai makes strategies with Flutter to render a high-delivery output..!
If you have any queries, never hesitate to contact us anytime through comments section..!
Search
Categories
Recent Posts