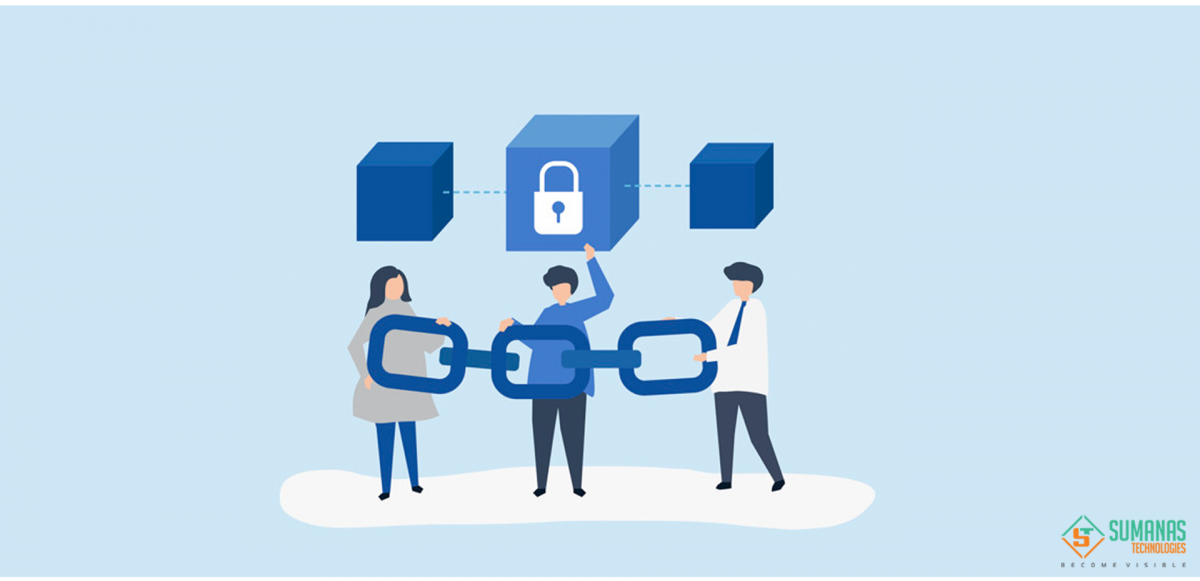 12
Jan
Everything you need to know about Enterprise Blockchain
1. What is Enterprise Blockchain?
Enterprise blockchain is a blockchain network that can be assimilated and manipulated for enterprise resources. These technologies deal with the Enterprise level of the organization.
In the Corporate environment, blockchain technology is booming. In the upcoming years, Modern ventures will soon dominate this sector. The Enterprise blockchain platform will break away from the ordinary and will take over larger pieces of the global enterprise marketplace. 
2. How Enterprises take advantage of blockchain technology :
In this part, we'll look into specific blockchain technology options which will be an excellent starting point for the enterprise. Choosing an Enterprise blockchain solution will open up powerful features of blockchain technology.
Decentralized Nature Ensures Peer to Peer Network :
It's one of the crucial features that any enterprise blockchain platform could want for their company. In the future, it will solve a lot of major centralized system issues. Typically a normal structure for organizations is the client-server structure, which is quite outmoded.
Perpetuation Gets Rid of Corruption :
It means once the block gets added to the ledger, nobody will be able to amend or alter it. So, there's zero likelihood of anyone destroying the data. Enterprise has to deal with not only cyber-attacks but also internal corruption as well. Changing the data and making use of it to your advantage is one of the ways in which corruption comes into play.
Greater transparency Increases Responsibility :
Blockchain allows all of its users to enjoy the transparency benefits. If you think it is transparent in public, anyone on the ledger can see the other nodes' transactions on history. So it will be easy to know about what someone else is doing on the internet.
Although the person's transaction history is visible, his/her identity will remain hidden. This means that everyone will see the address of the person, not their identity. If you can find the enterprise's public address on the internet you can easily recognize how they are transacting on the system.
 Faster Network will Increase efficiency :
For Transaction, a faster network is mattering much in the blockchain. In enterprise resources, they are a new kind of integrated features that you can transact within a minute. Even so, enterprise resources are more efficient in handling all kinds of enterprise demand. So here the transaction is not slowed in anyways.
3. Difference between Enterprise (Private) blockchain and public blockchain:
Enterprise blockchain is also called the private blockchain where both private and public blockchain is linked together with equal permissions and responsibilities. Both types also provide some level of the unchangeable network to prevent bad intentions by individual participants from tampering with the data stored on the blockchain.
But picking up a private and public blockchain purely depends on your requirements. If you are a Managing director of your organization then want to have an internal network system for your employees, then a private enterprise blockchain solution is the better call. Here you can give special authority to all of your employees and with cryptography, you can secure your transaction in the channel.
On the other side, if you want an application-type platform with the transparency of consumers then you should go for a public blockchain network. The enterprise blockchain is equipped with all the facilities, needs, and fulfills all the requirements, and also the consumer will trust your brand easily.
4. What is Blockchain as a Service? (BAAS)
Blockchain as a service is the special type of Enterprise blockchain service which allows other customers to host, build, and own their cloud-based solutions, smart contracts, and other relevant functionalities.
The disclosure of Blockchain as a Service is a compelling and crucial breakthrough in the blockchain scenery, improving the ledger technologies across the business. Where the BAAS concept is based on and also similar to SAAS frameworks.
These days the industrial giants are more anxious about learning Blockchain technology and also having a desire to implement it into their business processes. But the intricacy of the technology used to make them think more before taking action. Also, the absence of sufficient skills in their industries becomes a hurdle for them to take care of the operational facet of the network. Some of the big giants are offering these Enterprise Blockchain solutions accompanied by small startups.
5. Blockchain as a Service (BAAS) Providers
Some of the organizations are providing the BAAS services to their Enterprise users.
Launched in 2017, IBM Blockchain is one of the best platforms in the BAAS space.  IBM Blockchain is a fully unified dispensed ledger technology platform that enables businesses to develop, carry out, and run a blockchain environment quickly and cost-effectively on a flexible, cloud-based platform." 
Amazon launched blockchain on AWS in 2018.  Amazon BAAS solution permits your businesses to build their owned scalable blockchain and ledger solutions. If you want a consolidated database structure then AWS provides you a high operating ledger as well as it gives ingress to Amazon Web Services'  other cloud computing offers.
Oracle launched its Blockchain service in 2017 as Oracle Blockchain cloud service, to provide an enterprise-grade distributed ledger platform that may facilitate businesses to increase trust and supply nimbleness in transactions across their business networks.
Launched in 2017 as SAP cloud-based  Blockchain service platform. SAP aims to allow businesses to transform their business digitally over the use of dispensed ledger technology. The platform provides plug-and-play blockchain solutions and permits the simple setup and hosting of blockchain nodes.
In 2017 Hewlett Packard launches its service on blockchain as a service platform referred to as HPE mission-critical blockchain, which allows the customer to execute dispensed ledger workloads in an ecosystem that demand 100 percent fault forbearance at mission-critical levels and ensure large quantifiability to grow with the business additionally as SQL integration with gift systems.
6. The norms for Selecting a Blockchain as a Service (BAAS) Partner 
7. Conclusion 
The impact of blockchain technology is kind of irresistible. However, there aren't several players within the market who are able to tap the true potential of this technology. Enterprise blockchain firms are off to a good beginning with all the massive giants on board.
The prosperity of this enterprise blockchain solution may take place in a dispersed method. However, it might not take the maximum amount of time as we thought it would.
Over the succeeding 5-10 years, this industry can replace the present ones, and by 2030 we'll see a $3 trillion blockchain business worldwide. Let's hope for a brighter future and see what happens when blockchain blooms to its full potential.
For more exciting content stay tuned!
Search
Categories
Recent Posts