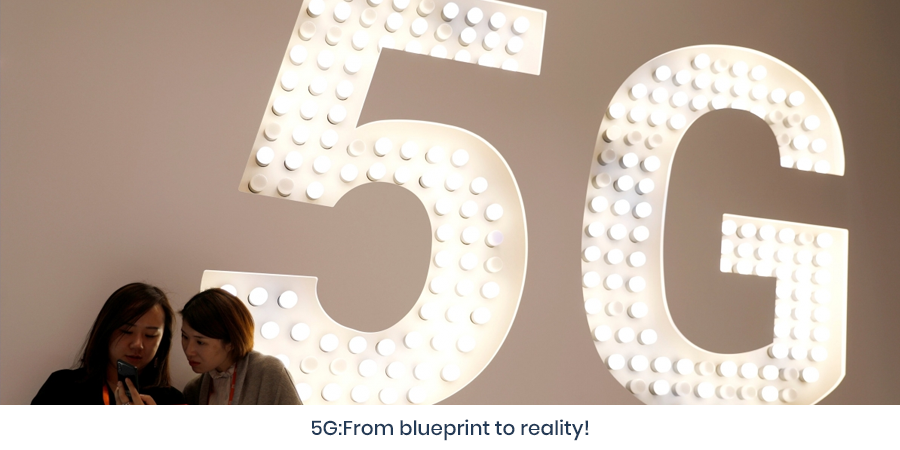 20
Sep
5G : From blueprint to reality!
5G has become the spell of the internet and it's not surprising why!
5G is a fifth-generation wireless mobile network broadband which promises to offer more speed and low latency. It is estimated that 5G would bring in 20 million new jobs and possibly contribute a $12.5 trillion economic benefit across the world in a decade.
It operates with 5Ghz signals and awaits to offer speeds of up to 1Gb per second. 5G will definitely provide better speeds and coverage than current 4G networks.
Yet, 5G is currently critical to lock in and its full arrival is still a long way off, but one thing is for sure, it will impact your business in a good way!
5G  comes down with three different bands,
1GHz: Offers wide coverage, yet slower speeds! (cheapest)
3.4-3.8GHz: Offers greater frequency to stay connected!
> 6GHz: Offers higher bandwidth, with minimal disconnections!
5G uplifts the mobile networks not only to connect people but also to interconnect machines, objects, and other smart devices. It will deliver multi-Gbps peak rates, massive capacity,ultra-low latency, and more precise user experience.5G will deliver brand-new levels of performances and efficiency that will empower, furnish new user experiences and bring in new big businesses.
Perceptions towards business benefits!
5G is coming!… is your business ready?
There is a lot of talk about 5G has a consumer technology but less about how it sets in businesses.
To start with, it will certainly enhance the experience of remote working and collaboration. Network related tasks, such as e-commerce, online sales, digital marketing or sharing huge files in the cloud will become faster and more efficient; even on smartphones without the need to connect WIFi giving businesses huge productivity and profits at a quicker phase.
The same goes for connecting people! 5G will connect devices, vastly expanding the potential and application of IoT Which demands faster connectivity and lower disconnections.5G will enable connections for up to one million devices per square kilometer.
This opens up incredible opportunities for IoT innovations and commercial purposes-from Artificial intelligence, robotics, drones, automated cars, and other remote-controlled machinery. Of course, in augmented and virtual reality; giving businesses a foreground for establishing and using such technologies as a competitive edge to achieve a breakthrough.
How service providers take action on 5G?
While service providers urge to build a supportive infrastructure to run 5G, it's the case where they "hurry up and wait", because the mobile phone manufacturers are lagging behind for 5G rollouts.
Few forefront providers are leveraging massive MIMO(Multiple input: Multiple output) grouping on prevailing towers as a wing between LTE(4G telecommunication standard) and 5G. It will drive both competition and cost-cut down innovations among providers during the phase of deployment.
The varying benefits of 5G will drive to more diverse services 
5G will change everything …not,really!
Given that blunt differences in how they perform, it is clear that 5G is paving a custom to the new future for mobile devices and communication networks, but what does it mean for you?
5G still lets you send across text messages, make calls, browse on the internet and stream videos. In fact, nothing you currently do on your phone, in regards to the internet, it will be taken away when you are on 5G; they will just get upgraded(speed).
5G a supremacy!
The speed and latency enhancements that 5G brings its a significant advantage over previous networks proceeded to it.

5G technology built-in upswing in device support facilitated by smaller size and more clear-cut digital signal delivery of the MIMO antenna arrays.

The advanced network architecture will limit data transfer disconnections and lost signals.
Is 5G hazardous?
So are there any 5G health dangers to talk about? 
The reason why many disapprove is 5G arises as a result of the extremely high frequency that its frequency, which lies between 30Ghz to 300GHz.
Due to higher frequencies, the waves(signals) will not travel to vast distances like 4G. Hence, antennas must be hoisted close to each other to offer clear 5G reception. We are not worried about erecting antenna, but about destroying lands and other living creatures, which brings in serious thinking on implementation!
India's 5G Fantasy:
India, the world's second-largest mobile service market, plans to auction 5G band waves in the approaching new year. India has recently opened its gates for applications from entities seeking experimental 5G networks trial service for a period of one year.
5G is certainly the future and we are going to enjoy the fast internet speeds on our mobile devices hopefully somewhere along, in 2020.
To have a track on upcoming 5G technology  trends,
stay connected to www.sumanastech.com/blog 
Search
Categories
Recent Posts